Go Solar is a registered SEAI PV Solar installation firm, with over 10 years of experience in the field, our team have the expertise and experience to provide you with the best advice and service available. Our installation and customer service team are trained to the highest standards in the solar power sector. We pride ourselves on giving our customers the highest professional standard of after care and support.
Grants are available to homeowners and businesses to help reduce energy costs and lower their green house emissions. Click on the below links to find out more about the available grants. 
Solar PV
Installation With
Go Solar
We offer both on-site and virtual site survey's providing you with a bespoke solution to suit your needs. Once we have reviewed the site survey, our team will begin to create and develop your bespoke solution.
Once we have designed and created the new look. We will send it across for you to review along with a competitive quotation. To ease the strain on your wallet, there is an SEAI grant of up to €2400 available.
On installation day our team of expert engineers will come out to your property to install your bespoke system, in order to give your household the ability to harness the power of the sun!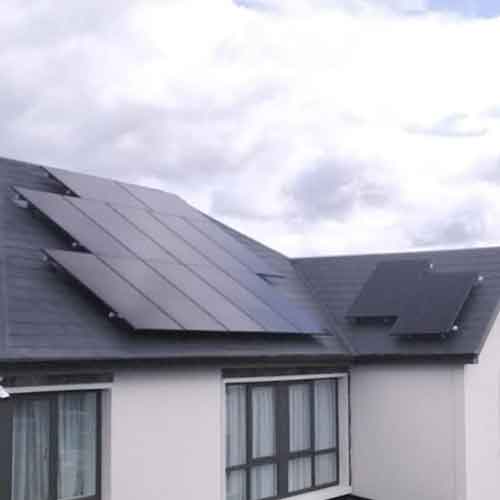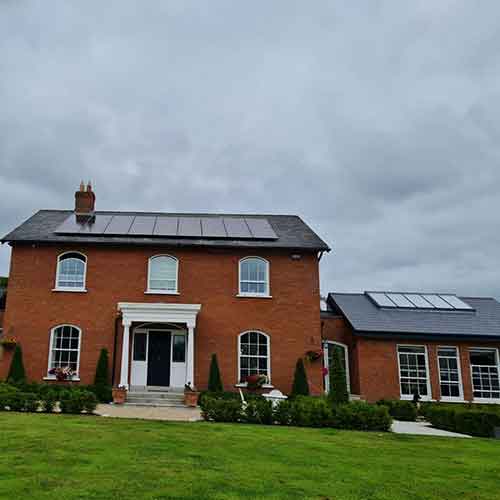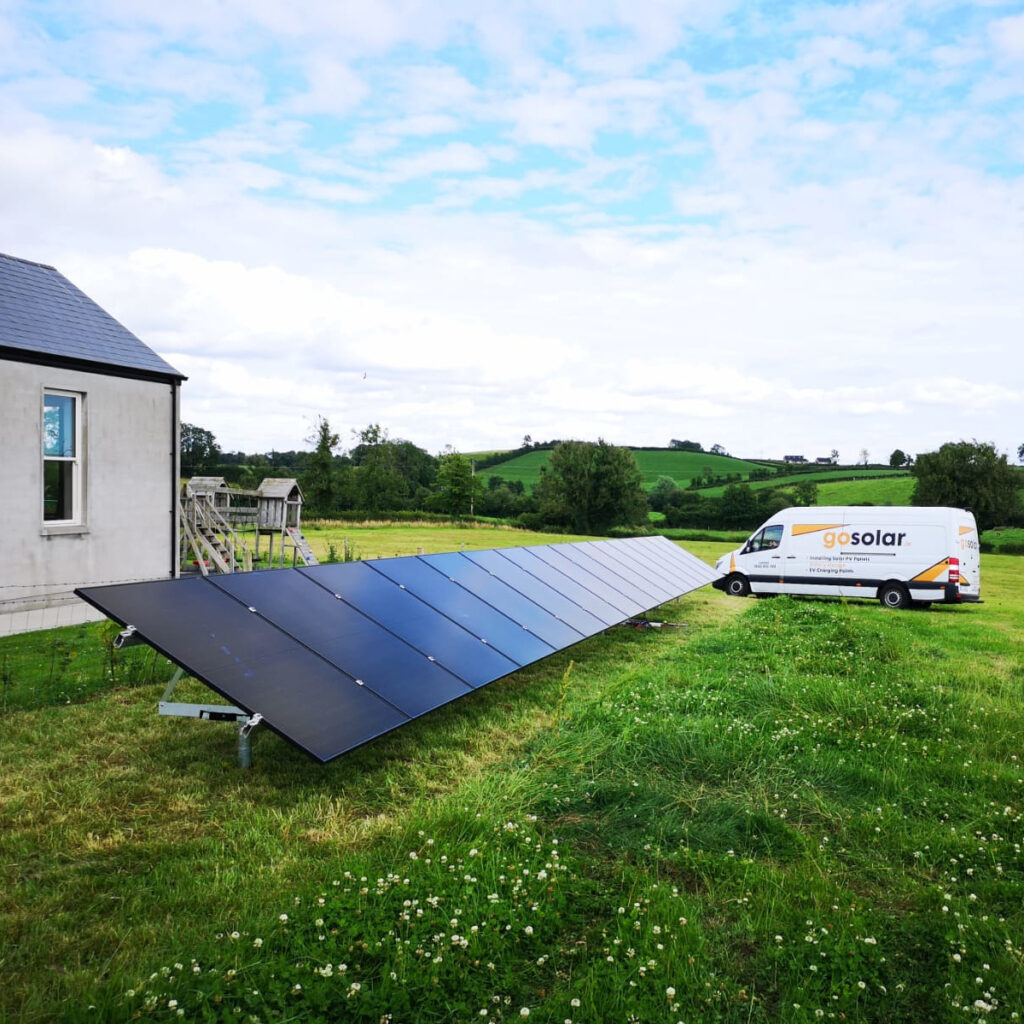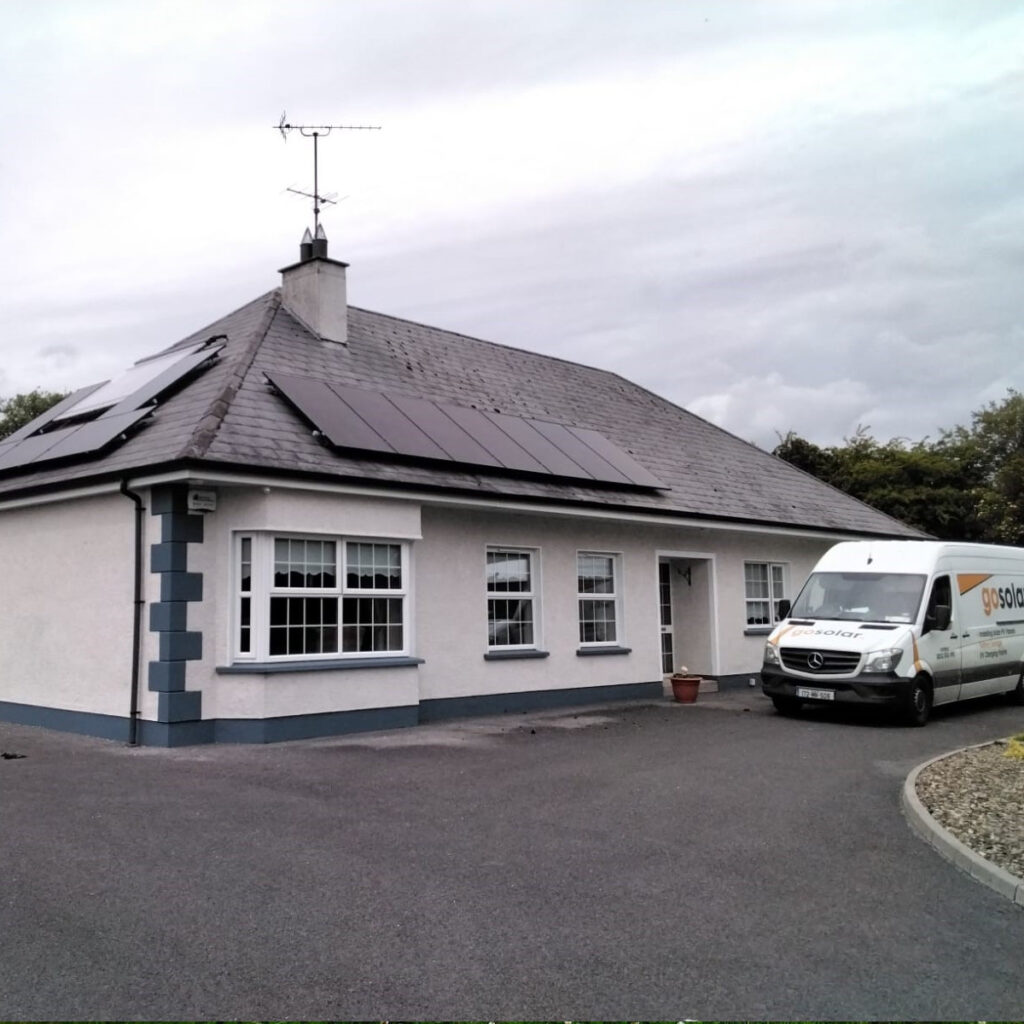 Geoff O'Connor
2023-09-15
Very easy to deal with and no messing.Arrived when they said they would. Completed the install on the day . Very neat job, excellent work. The panels have preformed since. When the data Logging Stick didn't seem to work for the Soliscloud app they were back whithin 72 hrs and replaced it. They waited to ensure I was getting all the data on my phone. Very impressed with workmanship. I would recommend Go Solar to anyone.
I am absolutely thrilled with the PV solar system and EV charger installation I had done with GoSolar on September 11th, 2023. From start to finish, the entire experience was nothing short of outstanding, and I can't recommend them highly enough! First and foremost, I'd like to extend my sincere gratitude to Emma from the office team and Eimear from the administration team. Their excellent customer service made the entire process a breeze. They were always available to answer my questions, guide me through the paperwork, and kept me informed every step of the way. Their professionalism and commitment to ensuring a smooth experience were truly remarkable. The installation team, consisting of six individuals, was an absolute pleasure to work with. They were not only experts in their field but also incredibly professional and polite. The installation process was done efficiently, and they left my property spotless. It's astonishing that they managed to complete such a complex installation in just around 6 hours. Their dedication to ensuring everything was done perfectly was evident throughout. Before the installation, I had the privilege of receiving invaluable advice from Paul during the pre-sale consultation on-site. Paul's expertise and insights were crucial in helping me make the right decisions for my solar system and EV charger setup. His guidance ensured that I got the best value for my investment, and I couldn't be happier with the results. What truly sets GoSolar apart is their commitment to customer service, both before and after the sale. They continued to provide excellent support and assistance even after the installation was complete, ensuring that I was completely satisfied with my new system. In conclusion, I wholeheartedly recommend GoSolar to anyone considering a PV solar system and EV charger installation. The exceptional customer service from Emma and Eimear, the professionalism of the installation team, the expert guidance from Paul, and the ongoing support truly make GoSolar the best choice. Thank you, GoSolar, for a fantastic experience and a greener future!
Would absolutely recommend GoSolar 100%. Great communication from start to finish. Job completed with no fuss and no mess and a very professional install. Even worked through one of the worst days of the year so far. Solar PV system working perfectly.
Go Solar did a great job and I'd be happy to recommend. Paul & team were brilliant throughout with a very professional service. I'd definitely approach them again if doing something similar for another property.
Excellent service , communication and follow up
Very professional team from Emma and Eimear in the office to the lads who came on site to the house to install the panels and the electrics. They left the house spotless, and they explained the system really well before leaving. Paperwork for grant was done once the BER was done by them - that is a great benefit in itself. Any queries afterwards was dealt with promptly so after care is spot on Install was timely - once date was agreed they stuck to the date. I would recommend them to anyone who is thinking about it to reach out and get your questions answered.
Stephen McCrossan
2023-09-01
excellent job from Go Solar fitting our solar panels. really neat and tidy job. really impressed and happy with the work. Sean (electrician) who completed all inside works was brilliant
Stephen Corley
2023-08-31
Great professional company to deal with.
Very happy with the install, professionally finished, a lot care taken when installing and fitters very friendly and informative. Price seemed fair compared to other competitors and supplied a lot of info that others, like projected monthly/yearly production of panels. Sales and technical were both very friendly and easy to talk to. Installed 1 month so far and already producing a little more than projected for this month.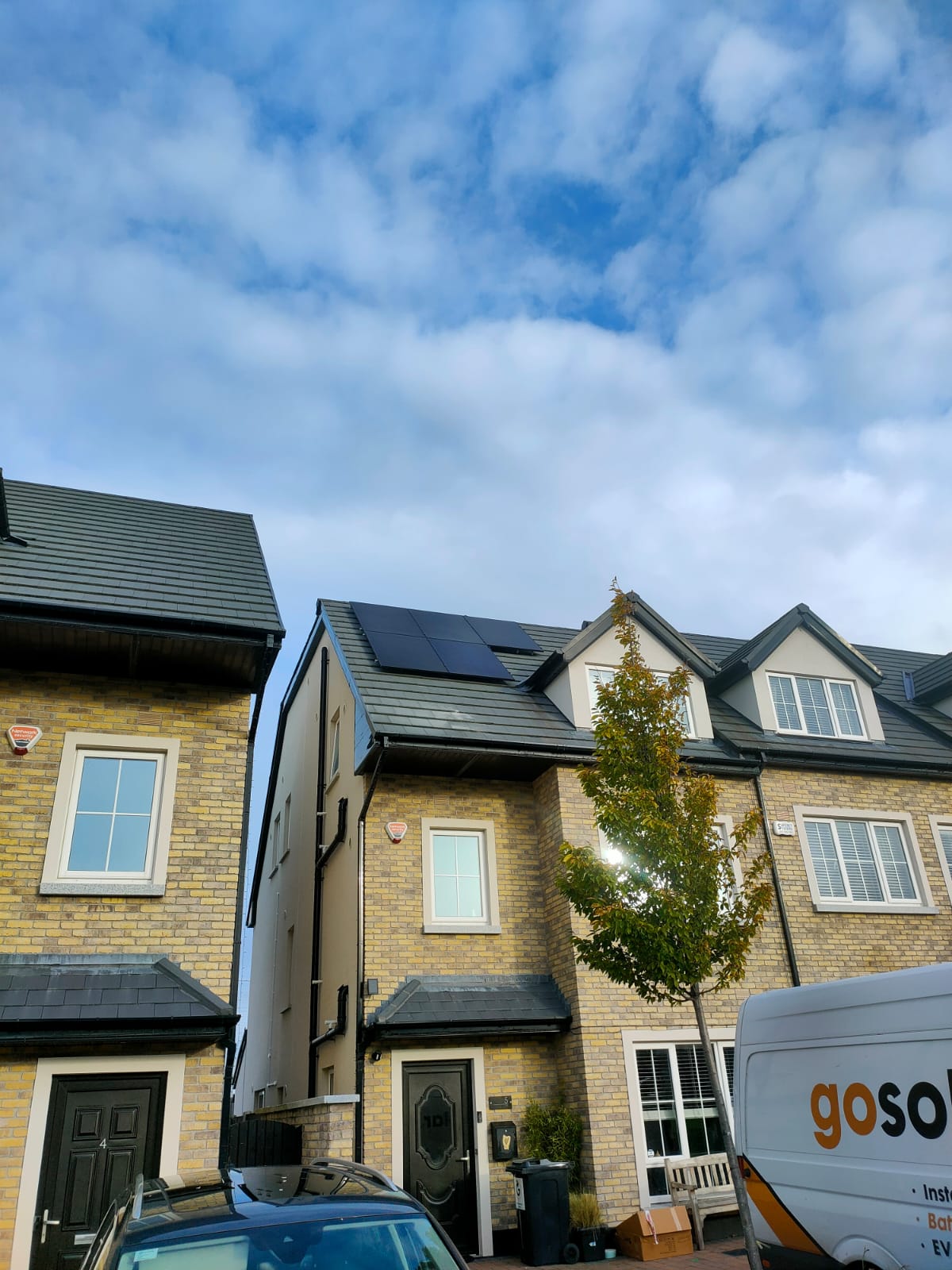 Benefits of
Renewable Energy
There are many benefits to using renewable energy sources such as solar panels, for example: 
Generate Free Electricity
Solar panels generate electricity from sunlight, which is an abundant and renewable resource.
Reduce Emissions
By harnessing solar power, you can reduce your reliance on fossil fuels and contribute to a cleaner and greener energy system.
Cost Savings
Once installed, solar panels generate electricity for free, reducing your dependence on electricity from the grid.
Increase Property Value
Studies have shown that homes equipped with solar panel systems tend to sell at a higher price compared to homes without them.
Energy Independence
Become less reliant on utility companies and the fluctuating prices of electricity.
Refer a friend to us for PV Solar Panel Installation and receive a €100 award.